The Shannon Region has no shortage of both greenery and green initiatives.
Shannon Region Conference & Sports Bureau is constantly striving to work with our members to innovate and improve on new ways to be greener than before, pushing to bring sustainability to the forefront of the industry and at the heart of what we do.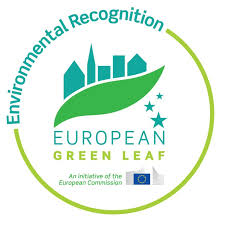 European Green Leaf Awarded to Limerick
Limerick has been awarded the European Green Leaf for 2020. The announcement was made following adjudication by a panel of international experts at an event in Oslo, Norway who holds the European Green Capital title for 2019.
Limerick, was commended for its ongoing investments leading to improved air quality and noise levels in the city. Limerick is currently transforming itself into Ireland's first digital city, integrating several public services, creating smart homes and buildings, energy districts and smart neighbourhoods
Global Destination Sustainability Index
At the end of 2018, The Shannon Region was delighted to make its first entry onto the Global Destination Sustainability Index (GDS-Index). The GDS-Index is a collaborative business initiative created to help Destinations, Convention Bureaux, Event Planners and Suppliers drive the adoption and recognition of sustainable practices in their regions and in the global events industry.
It aims to bring destinations together to benchmark and improve the social and environmental performance of their respective meetings industries by highlighting best practice and promoting responsible business tourism.
We are extremely proud to now be ranked alongside key global MICE destinations including Dublin, Houston, Sydney, Kyoto, Barcelona, Geneva, Helsinki, Stockholm and Frankfurt.
A typical five-day conference with 2,500 attendees consumes up to…
Sustainable Destination Policy
Working closely in partnership with the National Tourist Development Body; Fáilte Ireland, we share the same mandate, mission, values and vision when it comes to sustainability. SRCSB wants to work with our suppliers and community to make The Shannon Region a sustainable destination for MICE events and tourism as a whole.
Further information on our Destination Sustainability strategy can be obtained by emailing karen@conferenceandsportsbureau.com
Shannon Region Conference & Sports Bureau Green Procurement Policy is a process where we seek to source goods, services or works with a reduced environmental impact. We commit to promoting green procurement, in order to support our Sustainable Destination strategy and to align with both Ireland's environmental and wider sustainable development objectives and the United Nation's Sustainable Development Goals.
We endeavour to minimise the environmental 'footprints' of our procurement activities by purchasing products and services that cause minimal adverse environmental impacts while offering high quality products and services at competitive prices.
Keeping It Green Initiatives
Here are some key 'Keep It Green' initiatives, practical suggestions and a handy event checklist to consider employing when planning your meeting in the Shannon Region:

Support the Local Community
Leftover Food
Food Cloud will take donations of excess food from events, who will collect the food on site at no extra cost and arrange for distribution to appropriate charities. 
Surplus Stock
Have something that could potentially be a raw material for another business such as cardboard boxes, wooden pallets etc? List it on Smile Exchange to reduce landfill waste and further a circular economy.

✓ Think Reduce-Reuse-Recycle for event materials and communications
✓ Keep it digital where you can; electronic invitations, registration, follow ups etc

Walk or take public transport. Limerick City is compact enough to tour on foot, and many visitors hire bicycles to assist in getting around. Public buses, there two companies currently running city bus services in Limerick City.
Bus Eireann
A state-owned company, and part of the CIÉ group, Bus Éireann run city-bus services in most other areas of the city, and across major towns and cities in Ireland as well as nearby Shannon and Ireland West Airports.
Euro Bus
The routes service areas such as Raheen, Dooradoyle, Ballycummin, University of Limerick, O'Malley Park, Caherdavin and Castletroy.
Irish Rail
There are wheelchair spaces on each train, but spaces are limited so booking in advance is encouraged. Staff are available to assist, but 24 hours' notice is required to ensure ramps can be set up at the appropriate stations. More information
Bike Hire
Many hotel properties offer complimentary bike hire and our destinations are extremely easy to navigate by bike.

✓ Encourage delegates to stay in close proximity to the event venue
✓ Choose accommodation providers that have an environmental certification
✓ Choose an event venue that has an environmental certification
✓ Ensure that accommodation options are within walking distance to the event or have good public transportation links

✓ Vegetarian and vegan options are more environmentally friendly and often tend to be cheaper, so make sure to incorporate some meat free options into your menu
✓ Tap water is a sustainable choice with no transportation or waste packaging. Use glasses and water jugs over single use plastic bottles
✓ Opt for local, seasonal and organic produce
✓ Choose ethical, eco and fair-trade options
✓ Select local catering companies that have environmental credentials
If you're looking for a venue that cares for the environment as much as you do, The Shannon Region has a range of venues with environmental and sustainability policies that will assist you to reduce your event's carbon footprint. 
Make an easy and well-informed choice with our list of Green Meeting suppliers who are as passionate about the environment and sustainability as you are.
✓ Castletroy Park Hotel in Limerick do quarterly waste management training with all staff members to ensure they are recycling as much as they can. They work with their waste management company to maximise what they're recycling, sending to landfill etc. Currently they recycle approx. 73% of their waste.
✓ University of Limerick holds a Green Flag Award from an Taisce (an independent Irish charity, which focuses on the preservation and protection of Ireland's natural and built heritage). This award recognises their involvement in environmental education, management and action in enhancing sustainability on campus.
✓ Limerick Strand Hotel has a waste diversion rate of 80% from landfill as it stands. They are hoping to reach the 85% mark on this before 2020. Each guest bedroom has recycling cards, which encourage and show guests how to recycle in their bedrooms. All management and staff of each department are trained on recycling and are encouraged to practice this on a day-to-day basis.
✓ Adare Manor promotes Biodiversity – Development of park & woodlands. Many acres of land and thousands of trees support an abundance of flora and fauna right across the resort. They support Inland Fisheries Ireland with fish monitoring and river quality initiatives on the River Maigue which runs through the resort.
✓ Falls Hotel & Spa is powering itself from the energy provided from the fast flowing river Inagh and cascades alongside it. The 220 kilowatt water turbine is providing the Falls Hotel with 100% of its power, when the river is at full flow. The hotel has greatly reduced it's dependency on carbon fuels, thus reducing it's carbon footprint. They are on track to reduce their electricity consumption by 800,000kw of electricity, offsetting approximately 550 tonnes of carbon. This is the equivalent of offsetting three return trips to the moon by car!
✓ Radisson Blu Hotel & Spa have an Electric Car Charger on site. By choosing to drive an EV you are helping to reduce harmful air pollution from exhaust emissions